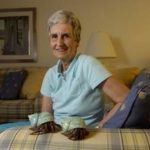 Meet Carol Ann Ormes, Crab Kate and Jonathon Livingston Crab.
In August 1976 Carol purchased Kate and Jon at two different stores along a boardwalk in Maryland. Their shells were the size of the tip of her pinky.
35 years later, in 2011, Crab Kate passed away.
Jon passed away February 2021, 45 1/2 years together. Jon, Kate and Carol will always be an inspiration to the LHCOS community.
To learn how to properly care for your pet hermit crabs we invite you to join our Facebook Group Land Hermit Crab Owners Society.
To learn more about Carol, Kate and Jon you can read their archive on our flagship site The Crab Street Journal.