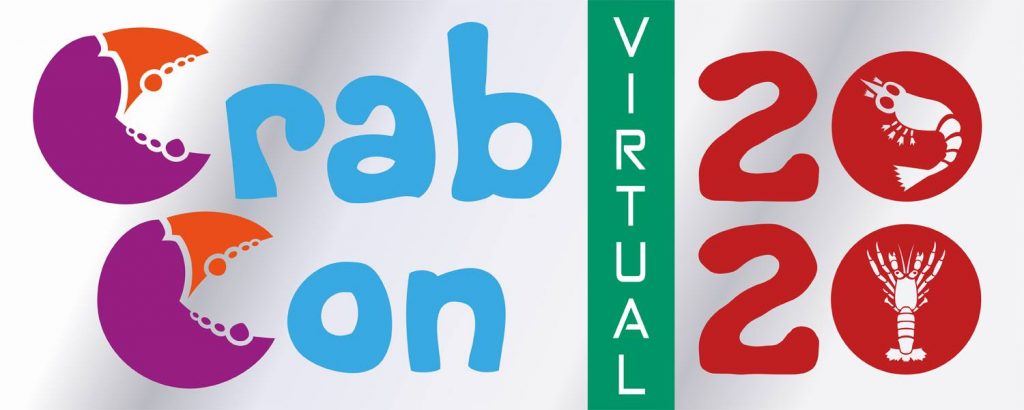 Where: CrabCon.online
When: July 10-12, 2020
Pre Event Meet and Greet and Open Shopping will begin at 6pm CST Thursday July 9th.
Please log in and get a feel for the software so you are not confused when the talks begin on Friday morning.
Pre shop with vendors so you don't have to choose between shopping and talks!
Chat and socialize with other attendees.
Who: Hosted by Mary Akers of Hermit House Breeding and LHCOS
Crab Con is going virtual!! We are regrouping and reconjiggering all the parts and pieces to turn Crab Con into a fully virtual conference experience for 2020! Dates will not change.
Anyone with interest in land hermit crabs is invited to attend. This is a chance for hermit crab hobbyists to come together and get to know each other, learn and shop. You do not have to be a member of our organization to attend. Open to all!
The main event at this conference will be the adoption of captive bred and raised Land Hermit Crabs from certified breeder Mary Akers. You must be pre-approved to adopt prior to the event. The adoption application form is here: Apply to adopt baby hermit crabs
We are currently booking speakers and vendors for the event. If you are interested in speaking or vending at the event please contact us.
You need a ticket to get in!
The link below is for our virtual attendees and we have included a break down of the pricing for you here. It's also on the tickets page.
If you are a speaker or a vendor, please don't purchase a ticket here, message Mary Akers to get your special speaker/vendor ticket link.
Speakers: All talks must be pre-recorded and uploaded to the virtual conference space.
Vendors: We are working on an online shopping mall for you to display your items and take orders.
Our BASIC TICKET to the conference is only $10. And the Basic Ticket gives you access to view every single one of our Main Stage talks when they air. (We have 14 scheduled at present–that's less than $1 per talk– and I'm in the process of adding more since we now have three full days to talk about hermit crabs–YEAH!) The downside to this ticket is that you can only see the talks when they air (no playbacks) so you will have to keep track of the schedule in order to not miss a special talk that you want to see. But it's a GREAT DEAL for those on a tight budget, especially if you are good at remembering when to watch.
Our FULL ACCESS TICKET is $59. The Full Access ticket holder can attend all of the main stage conference talks and presentations, view and participate in any of the special sessions, participate in virtual round-table discussions, view expert panels on specific topics (with Q&A chat), as well as enjoy access to the Crab Con Expo (sales area) where you will enjoy special offers from our participating vendors. The Full Access ticket also allows you to view and playback any of the talks or sessions that you might have missed or that you want to study more closely.
Our VIP TICKET is $99 and grants the holder full access to everything all the other levels enjoy (talks, sessions, Q&A, Expo, etc), PLUS VIP ticket holders get the Crab Con 2020 conference bag complete with conference SWAG, vendor coupons, and goodie bags from our sponsors, vendors, and supporters (filled swag bags will be shipped out prior to the start of the conference). There are a limited number of these tickets available, since we will have only so many bags and only so much swag. They are a great deal for access to a full conference, even without the bags, but when they're gone, they're gone.
https://hopin.to/events/crab-con-2020
Presentations:
See CrabCon.org for the current schedule!
Some frequently asked questions:
1) Yes, there is an adoption fee. My goal has always been to see hermit crabs valued as exotic, long-lived pets. And if I–who painstakingly raised them from birth–can't value these special little creatures in that way, then who will? It feels like it's up to me, from Day One, to expect the world to place a value on captive-bred hermits. All adoption fees will go toward funding future breeding attempts.
Sponsors