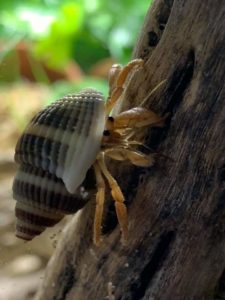 The Hermit House Captive Breeding Project hopes to change the current hermit crab pet trade by replacing wild capture with a sustainable captive breeding program. These captive bred babies are true miracles. The captive bred babies spend one year with breeder Mary Akers before they are big enough to adopt.
Adoption of Hermit House captive bred hermits crabs is now open to the public! A few things to know before you apply!
There is a fee to adopt.
You are not required to be a LHCOS member to adopt but you must meet the minimum standards of care observed by our organization.
You are committing to a life long pet when you adopt a hermit crab. Wild caught hermit crabs can live decades in captivity. Captive bred hermit crabs are expected to live even longer.
Their shells will be about the size of a pea at one year old.
The adoption application form is here: Apply to adopt baby hermit crabs
If you do not meet our minimum care requirements, your application will be declined. If you correct the issues, apply again and supply a new photo.
Our minimum requirements:
A glass tank with a lid that holds in humidity.

A 20 gallon tank is the minimum size for adopters. This can house 2-3 SMALL hermit crabs.

A heat pad placed on the back of the tank.
Thermometer and hygrometer
Consistent temperature between 75F-85F
Consistent humidity between 70%-80%
Substrate that is 5 parts play sand to 1 part coco pith (eco earth) at a minimum of 6 inches deep or 3 times as deep as your largest crab is tall, whichever is deeper.
Fresh water and Ocean water (made with Marine salt), treated to remove chlorine and chloramines, deep enough for submerging.
5-10 gallons of free space per hermit crab you plan to adopt (15 gallons if you plan to adopt an extra large hermit crab).
A normal cycle of 12/12hr day/night is maintained.
Nutritional diet is fed.
For more details on our guidelines read Setting up a proper crabitat and Newbies Guide to Hermit Crabs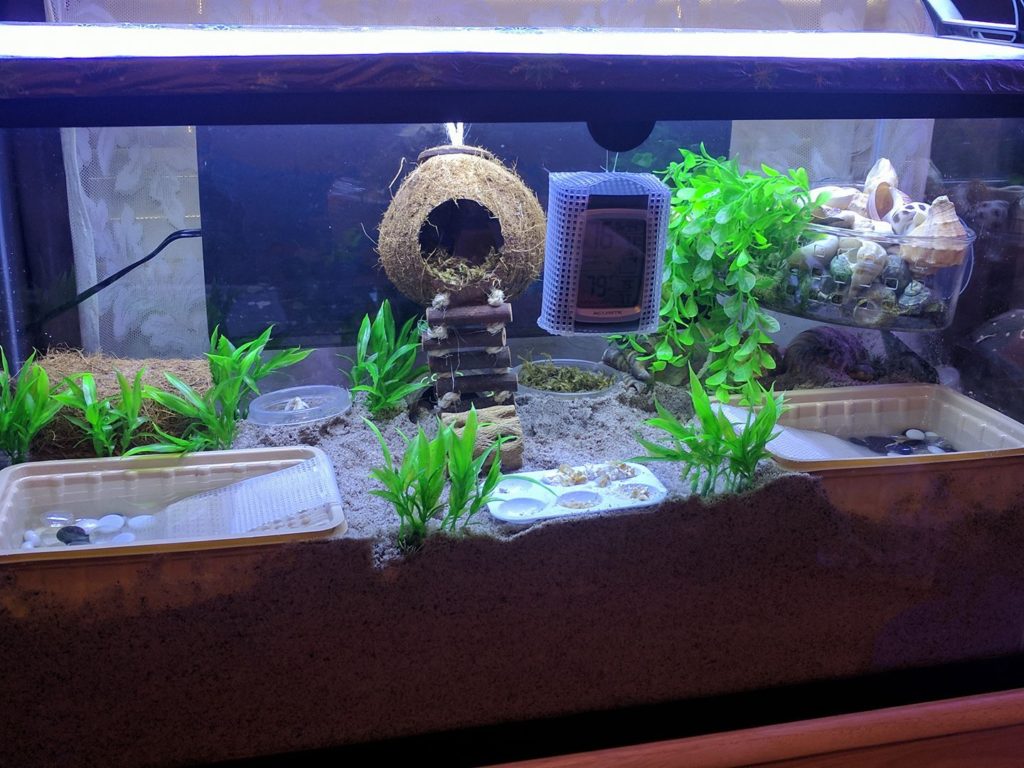 We do require adopters to be at least 18 years old. Please use care and caution when arranging in person hand offs and make your own personal safety the top priority.
If you are on Facebook we have added a page for hermit crab adoptions (please like and share to help us reach more potential adopters).
You can also follow us on Instagram – Hermit Crab Adoptions on Instagram