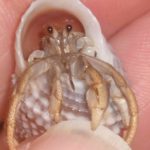 Crab Con 2020!!
COVID-19 – We are day to day right now. The convention has not been cancelled. As we get closer to the date we of course will re-evaluate the situation and make a decision. Stay positive and remember to hermit effectively and self isolate!
Bookmark this page so you can check back for updates as they become available!
Where: Lockport NY
When: July 10-12, 2020
Pre-Registration
Why Pre-Register? You will get access to all of the lectures, a CrabCon bag with swag and admission to the catered Opening Reception which includes a pre-shopping opportunity with all of our vendors.
Anyone with interest in land hermit crabs is invited to attend. This is a chance for hermit crab hobbyists to come together and get to know each other, learn and shop. You do not have to be a member of our organization to attend. Open to all!
The main event at this conference will be the adoption of captive bred and raised Land Hermit Crabs from certified breeder Mary Akers. You must be pre-approved to adopt prior to the event. The adoption application form is here: Apply to adopt baby hermit crabs
You are not required to be a LHCOS member to adopt but you must meet the minimum standards of care observed by our organization.
Where: Lockport NY
When: July 10-12, 2020
Who: Hosted by Mary Akers
We are currently booking speakers and vendors for the event. If you are interested in speaking or vending at the event please contact us.
Topics:
This list is in no particular order. Schedule to come closer to the date.
This is an amazing line up. You will probably want to pace yourself and pick your favorites to attend. They will run back-to-back in the Speaker's Hall.
1) BREEDING 101: Simpler Methods Anyone Can Try (by Mary Akers)
2) ADVOCATING FOR INVERTS … AND INTROVERTS (by Stacy Griffith)
3) CRABS IN THE CLASSROOM AND THEIR EDUCATIONAL VALUE (by Darcy Madsen)
4) SUMMER VACATION WITH JONATHAN LIVINGSTON CRAB (by Mike Vukoder) Followed by a brief Skype with Carol and Jonathan.
5) THE GREAT CRAB REHAB: Providing Aid to a Sick or Injured Crab (by Sherri Werdebaugh)
6) PLAY TIME: Tips and Techniques for Hermit Crab Enrichment (by Kelsey A Feighner)
7) FORAGING WITH JEANNE: Gathering and Preparing Foraged Items for the Hermit Crab Enclosure (by Jeanne Singhass)
8) THE ADDITION OF LIVE PLANTS TO THE CRABITAT: A General Guide (by Jay DeSilva)
9) RESEARCHING 101: Tips for Making Educated Hermit Crab Care Decisions (by Courtney Iris Karr)
10) CRAB ID USING SETAE PATTERNS (by Moa Lundberg)
11) THE HISTORY AND EVOLUTION OF LHCOS (by Vanessa Pike-Russell)
12) THE COLLECTION AND EXPORT OF HERMIT CRABS IN INDONESIA (by Felix J. Wang)
13) SUBSTRATES: Getting to the Bottom of Things (by Rizky Perdana Chandra Putranto)
14) INTRODUCTION TO DIY ENVIRONMENTAL CONTROL SYSTEMS (by Ian Green)
Vendors:
Vendors: The venue will provide 8 foot tables, no tablecloths. Outlets are available but bring your own cords and power strips. If you were approved last year you are pre-approved this year. Please fill out the form again so we have a complete list of all vendors.
Speakers: The venue will provide a projector and a screen. You will need a laptop if you are doing a PowerPoint or Slideshow presentation. Pre-recorded talks will be accepted if you can't attend. You will receive conference swag as a thank you. Limit recording to twenty minutes.
SCHEDULE 
FRIDAY, July 10th
SATURDAY July 11th
SUNDAY July 12th
Seeking sponsors: For a donation of cash or product your logo will be printed on the canvas gift bag going home with all adopters. Please use the form below to contact us about sponsorship.
Some frequently asked questions:
1) Yes, there is an adoption fee. My goal has always been to see hermit crabs valued as exotic, long-lived pets. And if I–who painstakingly raised them from birth–can't value these special little creatures in that way, then who will? It feels like it's up to me, from Day One, to expect the world to place a value on captive-bred hermits. All adoption fees will go toward funding future breeding attempts.