The Land Hermit Crab Owners Society started as Hermies Onelist – a mailing list for fans of Vanessa's Crabarium website which started in 1995. It soon became an online society for hermit crab lovers around the world. Hermies Onelist soon became a Yahoo!Group in August 1999 and included features such as chat, databases, files and polls.
Notable crabbers Vanessa Pike-Russell, Don Drenning (Crablover Don), Jennifer Borgesen (Motown Jenn), Carol Ormes (Crabworks), Karen Rogers (kish_29730), Marie Davis (Ladybug15057) and Stacy Griffith (Forever Purple) kept busy moderating the group.
In July 2000 several Hermies members gathered together for the first time!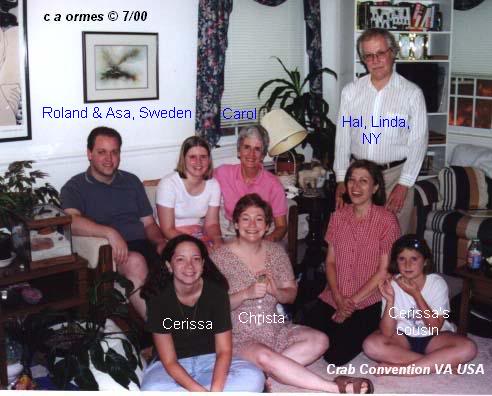 Since 2001 the LHCOS has produced an online magazine called The Crab Street Journal, a name voted on by LHCOS members. It includes Caresheets, Coenobita Species, Emergency Help, a Forum (Chewin' the Choya), Newbies Guide and more.
In 2006-2008 we offered printed magazines, one of which was used in the movie Girl Most Likely.
April 2015 Vanessa Pike-Russell created a Facebook group for LHCOS which has grown to a large, thriving community. You can join the group at https://www.facebook.com/groups/landhermitcrabowners/
You can visit our society Yahoo! Group at https://groups.yahoo.com/neo/groups/hermies/info and The Crab Street Journal magazine http://www.crabsteetjournal.org