Are you as thrilled as we are about the new species, the Noti (hermit crab people), joining the Star Wars universe? As fans of Ahsoka, we understand the excitement of discovering new creatures, but there's an important message we want to share with you:
Please think twice before purchasing a pet hermit crab without proper research.
After you've thoroughly researched proper care for hermit crabs and made the decision to add a pet hermit crab to your family we strongly urge you to consider adoption first, followed by purchasing a captive-bred baby hermit crab (yes they exist but only because of the hard work of Hermit House) at Josh's Frogs or directly from Mary Akers – Hermit House founder and breeder.
Please do not purchase a wild-caught hermit crab from the pet trade.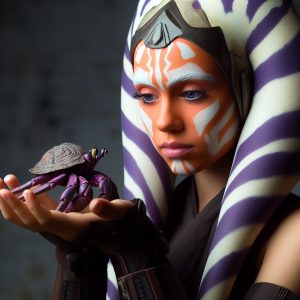 🤔 Why Research Matters:
Species-Specific Knowledge: Just like Ahsoka's lightsabers, hermit crabs have specific needs. Research their habitat, diet, and behavior before bringing one home.
Sustainable Choices: Consider adopting rather than buying. All hermit crabs currently in the pet trade are captured from their natural habitats, impacting their ecosystems. Support ethical sources such as captive breeders or adoption.
Tank Requirements: Hermit crabs need spacious, well-maintained enclosures with proper temperature, humidity, and substrate. Inadequate setups can lead to suffering and death. Expect to spend $300-$500 on an appropriate habitat (crabitat) for your pet hermit crabs.
Lifespan: Hermit crabs can live for more than 40 years. Are you prepared for the long-term commitment?
Social Creatures: Hermit crabs are social animals. They thrive in groups, so consider having more than one.
Nocturnal Habits: Hermit crabs are most active at night. Ensure you can provide them with a quiet, dark environment during their active hours.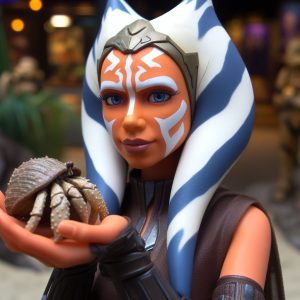 🦀 The Force of Responsibility:
As fans, we're committed to following the Jedi Code of responsibility when it comes to pets. Just like Ahsoka's duty to protect the galaxy, we must protect the welfare of these unique creatures. Here's what you can do:
Educate Yourself: Learn all you can about hermit crabs and their care requirements.
Educate Others: Share what you've learned! If they already own hermit crabs, let them know LHCOS is here to help.
Adopt, Don't Shop: If you decide to bring hermit crabs into your life, consider adopting from a rescue organization.
Provide Proper Care: Ensure your hermit crabs have a suitable environment, food, and companionship.
Spread Awareness: Share this message with fellow Ahsoka fans and raise awareness about responsible pet ownership.
Support Conservation: Contribute to efforts that protect the habitats of these fascinating creatures in the real world. The Land Hermit Crab Owners Society advocates to improve the lives of captive land hermit crabs and protect and preserve wild hermit crabs, their habitat and resources like shells. Hermit House is keeping wild hermit crabs wild through captive breeding efforts.
Let's unite the Force within us to become responsible pet owners and guardians of these incredible beings. Together, we can ensure that the galaxy, both in Star Wars and our own world, is a better place for all species, including the Noti.
May the Force be with you, and may responsible pet ownership guide your path. 🌌🦀❤️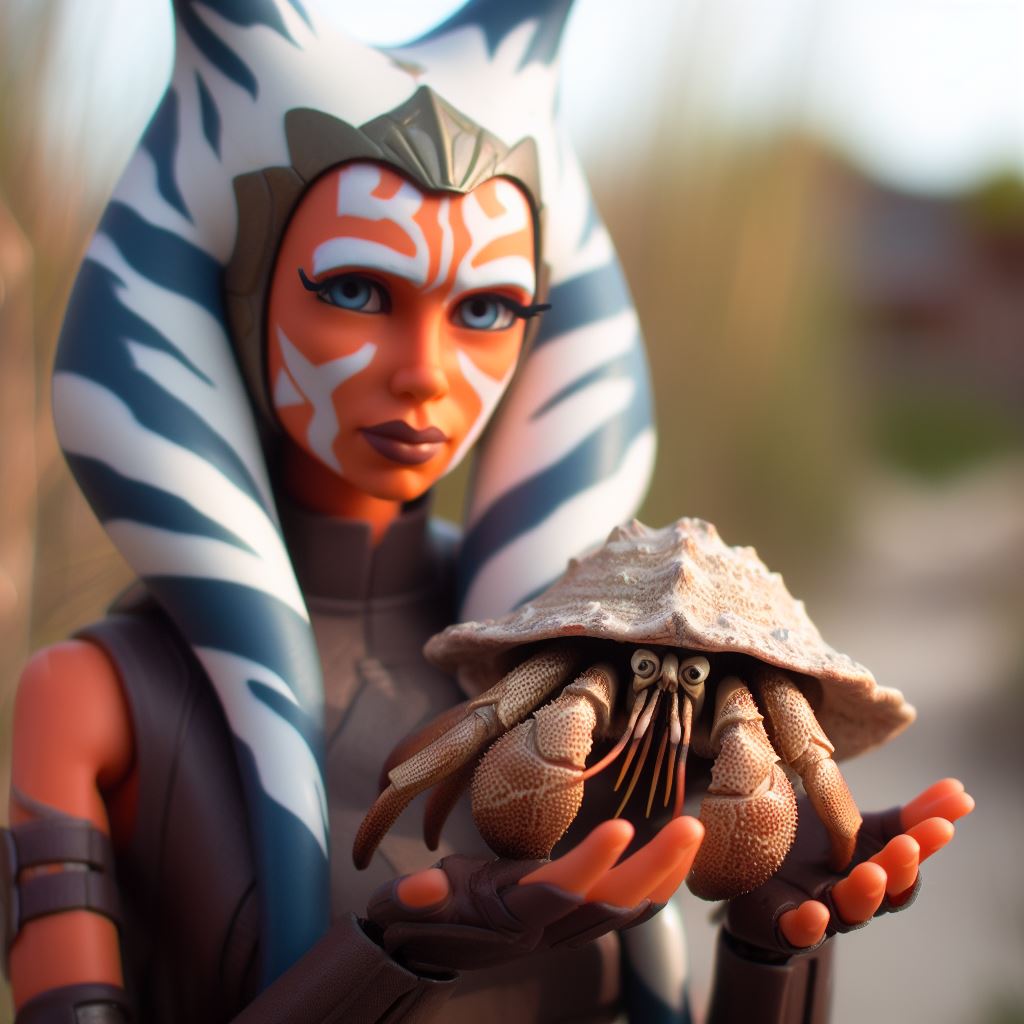 Resources: