This event is open to everyone in the hermit crab community worldwide!
Prize winners:
Game Time participation prize: Natasha Bassett won a Hermit Crab Nutrition Wheel from Crabitat Creations.
Attendance Prize from The Crab Street Journal – Huggable Hermie: Ashley Dawn Patrick
Attendance Prize from Because of Crabs, Moss and Such (Jeanne Singhass) – Dehydrated Protein Pack: Leah Savage
Please join us for an evening of fun and socializing! Many of us around the world are feeling isolated and lonely due to covid restrictions so I wanted to offer a place where our community can come together and have some fun and meeting other crabby friends away from the care groups.
Everyone is encouraged to dress in holiday attire!
Ugly holiday sweaters are encouraged or any traditional holiday attire from your country. Please be open and accepting of other cultures and traditions.
This party should be considered PG-13 as some sessions will include drinking of adult beverages.
Everyone will be able to start their own spontaneous live video chat session. Think of a session as a zoom chat that is open to all attendees to drop in and join you on video or participate in chat.
Attendance Prizes!
LHCOS will be offering a choice of one pin from four available limited edition hermit crab pins from Javi Designs. They are numbered on the back. For attending the party you get one entry. You can earn additional entries! Each session host will be given a secret word that they will share during their session. Write it down! On Sunday, fill out the entry form with all of the secret words you collected. Each one is worth one extra entry in the drawing. You will have at least 24 hours to complete the form. Drawing date/time/location TBD.
PIN entry form is due by the end of Tuesday 12/8/2020
CSJ will be giving away a crocheted hermit to one attendee via random drawing! These were created for CSJ's birthday.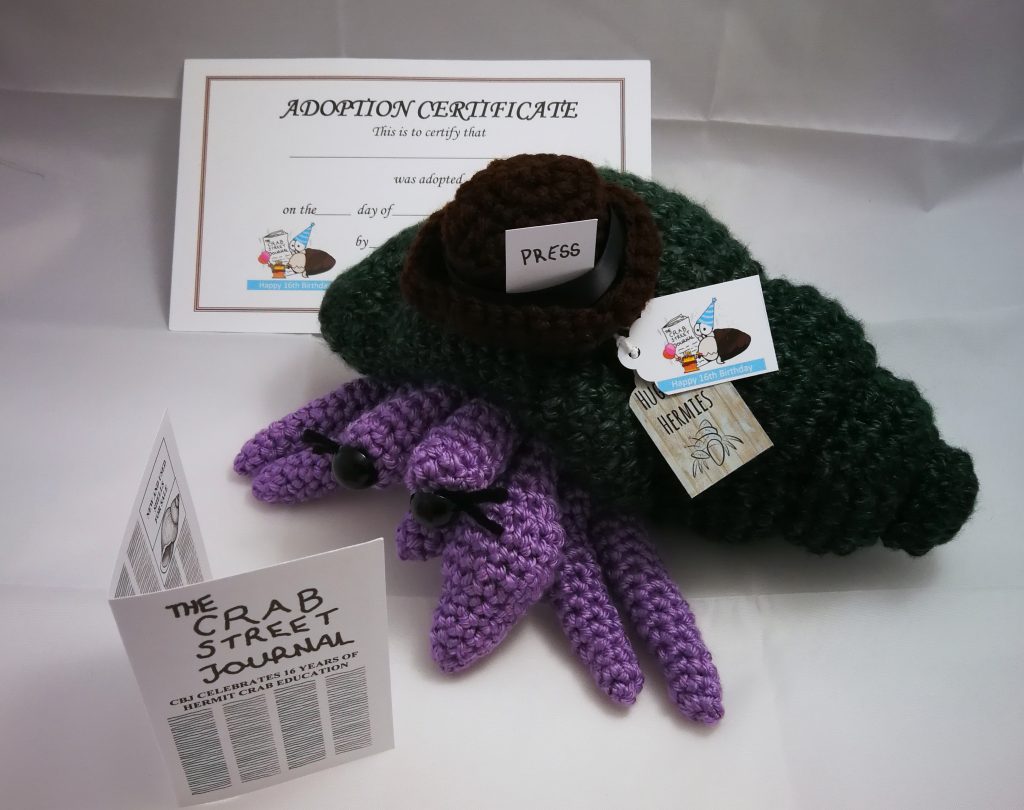 I'm looking for hosts for one hour time slots to host a scheduled video chat session & lead an activity of some sort. You choose the time and the activity! I have a few ideas for you too. Please contact me via the email provided below to sign up for a time slot and activity!
Hosts outside of the USA are also needed to host sessions and lead activities during USA night time hours when most of us are sleeping. You can use any of the activity suggestions and adapt them to your culture. I am encouraging to use our party as your own space to celebrate.
Vendors are wanted to offer exclusive shopping deals to attendees. Any vendor who is in good standing with our FB group is welcome to reserve a vendor booth. Your booth will contain a video ad for your store and a place to enter your exclusive deal (private link, coupon code etc). You will be able to go live in your booth any time during the event to chat with customers. You can also use the chat feature.
Schedule (check back here for details as they are added)
Main Stage-Friday and Saturday:
Charles Dicken's A Christmas Carol will be available for all attendees to listen to during the entire event. It is about a 3 hour audio book.
Friday 6pm CST:
Shopping opens and remains open overnight
Mingle time to get everyone settled in with Hopin.to
Spontaneous open social sessions can be launched by any attendee
12AM – Australian Christmas Traditions with Vanessa
Saturday:
Shopping continues
Spontaneous open social sessions can be launched by any attendee
8:00AM CST – The Golden Kangaroo – Story time with Helena
10:00AM – Story time with Darcy
Learn to draw with Aunril
6:00 PM CST – Holiday Trivia with Rita (bring some wine or adult egg nog)
Holiday music with Rose
International winter traditions with Stacy
Scavenger Hunt – General Items – host needed
Scavenger Hunt – Crabby Items – host needed
Approximately 8pm CST we will attempt to watch a movie together. If you have suggestions of a movie that is free to stream online for everyone please send it my way!
10:00 PM CST – Game Time with Stacy
Sunday
Shopping will end
Fill out your entry form to be entered in the LHCOS door prize. We will give everyone at least 24 hours to fill out their entry form after the party ends.