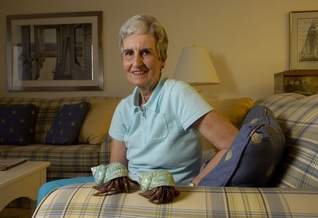 August is a very important month in the Hermit Crab World! This month is LHCOS 21st Anniversary AND is the anniversary of Jonathon Livingston Crab's adoption by Carol Ormes!
---
August 2020's contest is the very first in a new series of monthly contests where an Approved Seller sponsors each month. This month is a celebration of Carol 'CrabWorks' Ormes adoption of Jonathon Livingston Crab who is still alive and well to this day!

Crab Con 2020 was thrilled to have a live session with Carol and Jonathan and we're certainly looking forward to more. August 2020 is also a celebration of Land Hermit Crab Owners Society 21st anniversary with many more to come!
To participate in this contest and to be entered for a prize from this month's sponsor please click on the contest link to submit your answers to be entered into the drawing; the form will be closed the last night of the month and the drawing will be held live during a live discussion where anyone can join and chat during the discussion. Please read the Contest Rules but most importantly have fun!
This month's contest sponsored by: